Monytuil takes office in absence of outgoing governor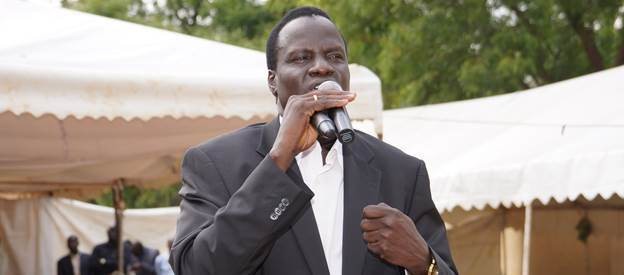 Unity State residents lined the highway from Rubkona airstrip to the state capital Bentiu to salute the newly appointed caretaker governor Joseph Nguen Monytuil upon his arrival on Wednesday.
The press secretary of Mayom Commissioner John Bol Fadiz said that the capital yesterday received the caretaker governor but the outgoing governor Taban Deng Gai was absent. "Dr. Joseph was welcomed by the Unity State deputy governor who represented the state government as the outgoing governor Taban Deng Gai was not seen at the reception by the citizens of the state as the new governor waved to the citizens as he stepped onto the soil of Unity State," said the official.
Dr. Monytuil had taken his oath of office in the presence of President Salva Kiir in Juba after his appointment replacing Governor Taban Deng Gai, who had been dismissed by President Kiir in a surprise decree the same day, without explanation. Gai protested his dismissal as 'unconstitutional.'
The witness said that upon arrival Dr. Monytuil confirmed to the crowd that he will work for peace, stability and unity in the state and with its neighbours.
In an earlier interview with Radio Tamazuj after taking the oath of office in Juba, the new governor said that security for the people of Unity state, the population of other states and the border with Sudan are to be his top priorities while in office. He also downplayed tensions with the outgoing governor Taban Deng Gai.
After the arrival ceremony, which was attended by many citizens and dignitaries of the state, the crowd followed Dr Monytuil to his house where a traditional dance was performed. Speaking to Radio Tamazuj from his house during the celebration, Dr. Monytuil said that he is very proud that the leadership of the SPLM and the people of Unity State once again called on him to serve them, and said he is ready to take over from where outgoing governor Taban Deng Gai left off.
The citizens of Unity State are waiting to see what the new governor will do. "To judge him now is too early but we wait to judge him from the others," said a student from Unity State at the University of Juba.
Related coverage: Exclusive: 'Security with neighbours top priority for Unity state' – caretaker Governor (11 July 2013)