Mogae urges unified push to revitalize South Sudan peace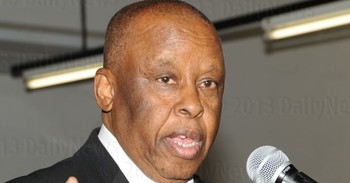 File photo: Festus Mogae
Festus Mogae, chairman of the Joint Monitoring and Evaluation Commission (JMEC) said the East African regional bloc, IGAD needs to approach the upcoming revitalization forum unified and with strength of purpose to end the ongoing civil war in country.
JMEC is a body tasked with overseeing implementation of the signed peace deal in South Sudan.
Speaking during a plenary meeting in Juba today, Mogae said the IGAD heads of state must prevail over the South Sudanese leadership to rethink the current trajectory of the country.
"As we await IGAD's detailed plan for the High Level Revitalisation Forum, I call upon us all to remain focused on the desperate plight of the people of this country", Mogae said.
The peace monitor emphasized the need for an inclusive political process which brings together all parties and a negotiated permanent ceasefire in the country.
Mogae pointed out that the current security situation in the country remains fragile. "Major violations of the ceasefire continue to be recorded since we last met," he said.