Missing file blocks justice for Terrain hotel attack victims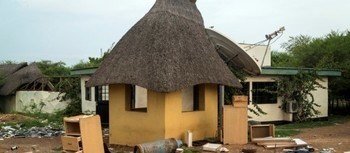 File photo: Terrain Hotel (AP)
A missing case file is blocking appeals in the sexual assault case stemming from the July 11, 2016 attack on the Terrain hotel in Juba, Amnesty International, Human Rights Watch, and Legal Action Worldwide said today.
In September last year, a military court sentenced 10 soldiers to prison for the rape of at least five international women and the murder of a South Sudanese journalist in the attack, and ordered the government to pay compensation to all the victims.
The rape and sexual assault survivors and the family of John Gatluak Manguet, the journalist killed in the attack, appealed the court's decision to award $4,000 to each of the rape and sexual assault survivors, and 51 cows to the journalist's family. They contended that the compensation was not commensurate with the crimes, and with the physical and mental trauma they have endured since the attack. The convicted soldiers also filed their intention to appeal the conviction.
In a press release extended to Radio Tamazuj, the rights groups said that the Supreme Court is unable to move forward with appeals by the victims and those convicted because of the missing file. The three organizations further said case file has not been seen since it was sent to President Salva Kiir in 2018.
"It is outrageous that a year after the conviction the parties' appeals cannot be heard because of a missing case file," said Antonia Mulvey, founder and executive director of Legal Action Worldwide. "The authorities should ensure that there are no deliberate attempts to obstruct justice and locate the file, so the Supreme Court can examine the appeal."

"The victims of this heinous attack, and their families, have suffered so much already – it's unfathomably cruel to prolong their quest for justice," said Seif Magango, Amnesty International's Deputy Director for East Africa, the Horn and the Great Lakes."

The authorities should ensure the rights of victims to a remedy and of the accused to a fair trial, including their right to appeal and their right to be tried or to obtain justice without undue delay, the groups said.

"After the compensation was awarded, I felt violated again, I felt raped again by the justice system," said Sabrina Prioli, one of the rape survivors. "Now we appeal because we want a formal compensation system that takes into account the gravity of the crime."

The groups said the missing case file, which included the judgment, was sent to President Salva Kiir for confirmation before the judgment was delivered on September 6, 2018.
"While the trial of the soldiers in the Terrain case is a first step, the justice process isn't finished yet," said Jehanne Henry, associate Africa director at Human Rights Watch. "The disappearance of the case file has effectively stalled the appeal process and serves as a classic example of the justice system failures that exacerbate the culture of impunity in South Sudan."
The office of the president could not immediately be reached for comment.