Militia 'burns 350 houses' in South Kordofan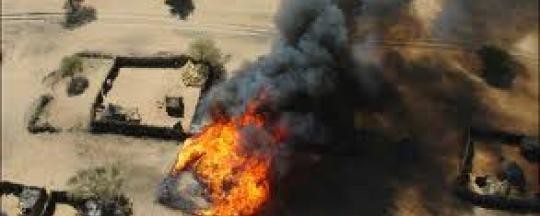 Citizens from Dilinj locality, South Kordofan, accused a group of pro-government militia of burning about 350 houses and 60 square kilometers of farms.
Sultan Khamies Soba said that pro-government militiamen launched a 'campaign against several villages' in the locality with the intent of 'starving and displacing the natives'.
The campaign in rural parts of Dilinj area began on Saturday and lasted until Monday, Soba said.
He explained that militiamen burned 180 houses in the Dlaba village, 60 in Hamedaah, 35 in Sueba, 30 in Adadar, 24 in Lubaidah, 22 in Kourkon and eight in Balijr. This, in addition to burning millet, maize and sesame farms, he completed.
Soba pointed out that these events led to a mass displacement in the locality.
Cross-posted at RadioDabanga.org; file photo