Military court jails 10 soldiers for murder, rape in 2016 hotel attack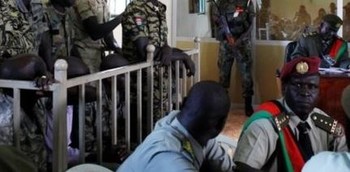 REUTERS photo
A South Sudanese military court on Thursday sentenced 10 soldiers to jail for the rape of foreign aid workers and the killing of a local journalist at the Terrain Hotel in Juba.
The incident occurred in the capital Juba on July 11, 2016 as President Salva Kiir's forces won a battle over opposition fighters loyal to former First Vice President Riek Machar.
Five women working with aid agencies were raped and John Gatluak, a South Sudanese journalist was killed in the incident.
When reading the verdict, Brig. Gen. Neath Juma, the special judge of the military court, said the 10 soldiers were found guilty for their direct responsibility in committing crimes, but one of the accused was acquitted due to lack of charges against him.
He explained that two of them were sentenced to life imprisonment, while the eight were sentenced to jail.
Juma pointed out that the court ordered the South Sudanese government to pay damages to the victims. The court said the government will pay $4,000 to each of them.
It also ordered the government to pay 51 head of cattle to the family of the journalist who was killed in the attack. The hotel owner, according to the military court, will receive $2.2 million in compensation for the destruction of his property.
Rights group welcomes the verdict
The international rights group Amnesty International welcomed the verdict saying today's convictions and sentences represent a first step towards ending chronic impunity in South Sudan.
"These convictions must lead to the crucial next step of ensuring justice for all crimes committed in the ongoing armed conflict, by first and foremost, setting up the much-delayed Hybrid Court for South Sudan agreed in 2015. South Sudanese leaders must keep up the momentum towards ending the climate of impunity in the country," said Seif Lakes, Amnesty International's Deputy Director for East Africa, the Horn and the Great Lakes.