Michael Makuei: I am not under house arrest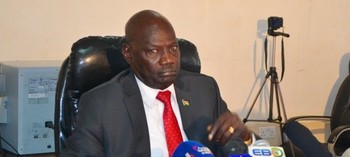 File photo: Information Minister Michael Makuei
South Sudan's Minister of Information Michael Makuei has denied claims that he was put under house arrest by security officials in Juba for alleged links with rebels.
Minister Makuei told Radio Tamazuj today that he was not placed under house arrest in the capital Juba, describing the reports as baseless.
"The reports are fake. I am now in my office and nothing happened to me. It is not true that I am under house arrest," Makuei said.
"I have never differed with the national security. I cannot be linked with the rebels while I am the spokesman of the government. I would have joined the rebels if I agree with them," he said.
Makuei, who is a close ally to President Kiir, said anti-peace elements were behind the claims that he was put under house arrest in Juba.
In September last year, the U.S. administration sanctioned Michael Makuei for his role in threatening the peace, security, or stability of South Sudan.