NORTHERN UGANDA -
9 Apr 2018
Menstruation prevents refugee girls and women from living normal lives: local NGO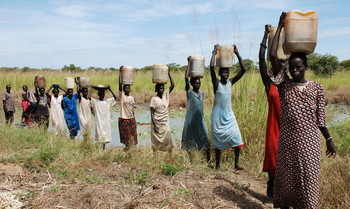 A Ugandan non-governmental organization Community Development Centre (CDC) says menstruation remains a major inhibiting factor for South Sudanese refugee girls and women from accessing schools and social services.
In a report extended to Radio Tamazuj, the CDC says menstruation is a taboo subject among the South Sudanese refugees making women unable to live normal lives during their monthly periods.
Sebit Martin, CDC's Executive Director told Radio Tamazuj that after a research conducted by the organization, these were their findings.
"We found out that most of the refugee girls missed to go to school because of their periods. And also we found out that women have stress in managing their menstrual periods and we came to conclusion that menstruation is a taboo in the camp and if nothing is done to address this issue, many girls will continue to drop out from school and women continue to build self-fear," he said.
But Martin added that his organization with funds from an American charity organization are doing something about this. "That is why we intervened in this area helping them with dignity kits to live comfortably while in public," he said.
Martin notes that more than 1,500 school going girls and child bearing women are benefiting from the distribution of free sanitary kits also known as "dignity kits" aimed at maintaining girls in schools and help women access public services and events in various camps across northern Uganda.
Aputu Clara is a South Sudanese refugee student who has benefited from the dignity kits which comprise sanitary pads, a bucket and bar soaps. She is grateful for the program and says she can now attend classed without any challenges.
"You know being a refugee without money or parental support; girls are faced with a lot of challenges when our monthly menstrual periods begin. I sometimes could remain at home without going to school and even to water collection points because of fear that some fellow girls and the boys shall laugh at me. But with the distribution of such dignity kits, I am able to use them and attend classes normally without challenges any more. I want to thank CDC and its partners for rescuing our situation here in the camp," she said.
Rose Peter lives in Rhino Camp and is also a beneficiary of the program.
"I used not to go to church or even go to the market to buy something when my periods begin because I feared they may be seen by other people. I chose to remain in the house and because I don't have access to health approved pads, and money to buy always which are being sold expensively in the camp, I used pieces of old cloths to manage my periods. I want to thank this organization for looking into our challenges in the camp," she added.
The Community Development Centre's official has called on its partners to continue supporting the program which he says restores dignity to the women so that more girls and women benefit from the program.