Netherlands -
29 Aug 2019
Meeting of South Sudan rebel groups begins in The Hague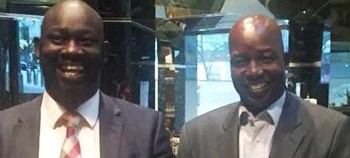 File photo: Emmanuel Ajawin (L) and NAS leader Thomas Cirillo (R)
Disaffected South Sudanese rebel figures who are not part of the September 2018 peace deal have started a two-day meeting in the Netherlands, an opposition official announced.
Emmanuel Ajawin, secretary general of the opposition coalition South Sudan National Democratic Alliance (SSNDA), told Radio Tamazuj this afternoon that the holdout opposition groups kicked off a meeting aimed at hammering out a united front against the Kiir administration.
The opposition South Sudan National Democratic Alliance (SSNDA), a coalition of non-signatory groups, is led by NAS leader General Thomas Cirillo.
Ajawin, who was part of today's meeting, noted that the gathering in The Hague this morning seeks to define a common stance among the holdout opposition groups for a genuine peace in South Sudan.
He revealed that the meeting was attended by General Thomas Cirillo, Pagan Amum, General Oyai Deng Ajak, Cirino Hiteng, Sunday de John, Thomas Tut and other opposition officials.
"General Paul Malong spoke by telephone when the meeting started officially. General Malong talked and presented the position of his movement," he said.
"The opposition groups agreed that the unity of the holdout opposition groups is very important because the government of Salva Kiir is destroying the country," he added.
Ajawin, who also leads a faction of the National Democratic Movement (NDM), pointed out that the talks are expected to reach satisfactory understandings that will lead to the Declaration of Principles and shared plans.
Several rebel factions, including those led by former army chief Paul Malong and General Thomas Cirillo are not part of the revitalized peace deal signed in September 2018.
Under the peace deal, prominent opposition leader Riek Machar, along with four others will serve as President Kiir's deputies in a transitional government.
But the peace deal is already behind schedule and there are growing concerns that the parties to the peace accord may not meet a November 12 deadline to form a new government.