Mediators propose five vice presidents for South Sudan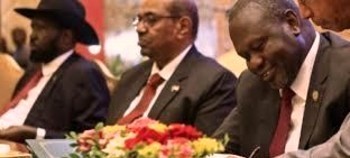 The mediators on Sunday unveiled a new power sharing proposal which they believe would put an end to the ongong civil war in South Sudan.
President Salva Kiir and opposition groups signed a deal on security arrangements on July 8 in Khartoum.
The new proposal designed after shuttle diplomacy between Juba and Kampala calls for creation of five vice presidents in the unity government. A previous version rejected by the opposition had sought to create four vice presidents.
Another bone of contention at the negotiations in Khartoum has been the number of states. The new proposal maintained the controversial 32 states until an Inclusive Boundaries Commission determines the number of sates within 180 days.
The proposed agreement also suggests 35 ministries and 550 members of parliament. The incumbent government, according to the proposed peace plan, would take 18 ministries while the opposition would divide 17 ministries.
The negotiations between the South Sudan warring parties will continue in Khartoum until next Tuesday.