Media regulator blocks unregistered journalists from covering Makuei's press conference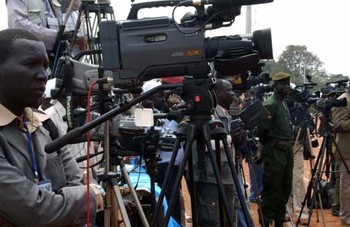 South Sudanese media regulator has barred unregistered private journalists from covering a press conference held by the country's information minister Michael Makuei Lueth in the capital Juba today.
Only registered private journalists and state-owned media were allowed to cover today's press conference.
The Media Authority was created under a bill signed into law in 2014. Its members include representatives of the National Security Service, Ministry of Culture and Ministry of Cabinet Affairs.
Several journalists told Radio Tamazuj that unregistered journalists from the UN-run Radio Miraya, Al-Arabiya TV channel and several journalists working for international media outlets were expelled from the conference hall where the information minister was briefing the public on the recent peace talks in Addis Ababa.
They pointed out that an official representing the Media Authority was present during the press conference to check unregistered media houses.
The media regulator in September last year ordered for fresh registration of all practitioners and institutions and warned that defiance would face severe consequences. But several lobby groups described the move as "unlawful".
In November 2017, the Media Authority suspended press associations in the country while they register for government licences to operate.