Media institute graduates over 20 journalism students in Juba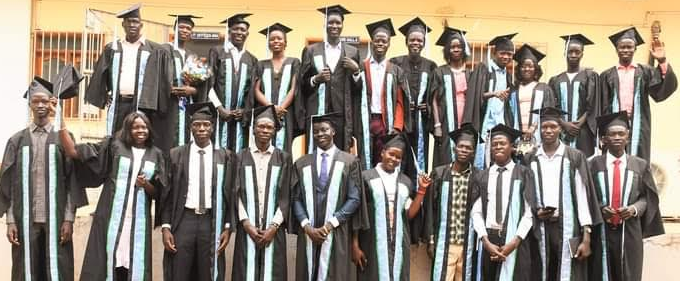 The MDI graduates pose for a group photo. Radio Tamazuj photo.
Media Development Institute (MDI) in Juba on Wednesday graduated twenty-three journalists who underwent a one-year course in media studies at a function graced by government officials, media stakeholders, and representatives of foreign missions and organizations.   
This is the fifth cohort to graduate since the institute was established in 2014 by the Association for Media Development in South Sudan (AMDISS), a body that offers capacity building, scaling up journalists' abilities, and advocates for a conducive environment for the practice of journalism.
The principal of the Media Development Institute, Irene Lokang, told Radio Tamazuj Wednesday that the fifth batch of students completed the one-year journalism course and was awarded advanced certificates in journalism.
"Today's event is the graduation of the MDI fifth cohort of journalism students who were enrolled in 2020 and have completed their one-year journalism course," Lokang said. "They are twenty-three in total with six female journalists. They are graduating with advanced certificates in journalism." 
One of the graduates, Masmina Turuju, said she decided to join the institute so that she can keep the public informed with accurate news stories. 
 "I decided to join the AMDISS/MDI to be a future journalist to feed the public with facts. The training was so fruitful in a way that we were impacted with some knowledge including media ethics, laws and how to practice journalism," Turuju said. "The course was fine but there were some things like cameras missing for us to practice videography and photography."
For his part, Michael Duku, the AMDISS executive director, the mother organization for the Media Development Institute, said the fifth graduation was a great milestone in the organization's history. 
"The Media Development Institute is the training wing of the AMDISS and today (Wednesday) we are graduating the students who completed their one-year journalism certificate program and it is a big celebration for us in the history of media development and AMDISS," Duku said. 
He urged the graduates to be watchdogs on issues taking place in the local communities across South Sudan.