Mbeki heads to Khartoum for talks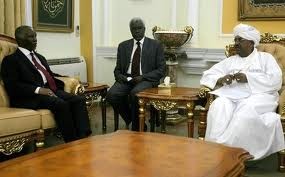 South African president Thabo Mbeki said on Saturday that Sudan had agreed to the establishment of a demilitarized zone, 10 km south of the border.
The government also reportedly expressed its readiness to resume negotiations with South Sudan on the outstanding issues relating to previous agreements between the two countries.
Mbeki said talks with president Bashir in Khartoum focused on security and said 'Bashir was committed to all security agreements that have been reached'.
He said 'President Bashir confirmed that he believes the two nations... are in need of peace.'
Mbeki said he was looking to set a date for negotiations to restart.