Mass looting spree in Raja town after fighting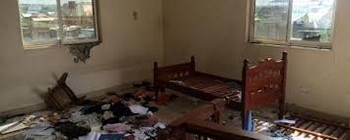 Photo: A room looted in a house in Munuki in July 2016 (HRW)
Citizens in Raja town have reported a mass looting spree allegedly by government troops shortly after clashes with rebels on Friday morning.
Speaking to Radio Tamazuj on Monday, several local residents claimed that SPLA soldiers looted citizens' properties following fighting with opposition fighters in the town.
Separately, government and rebel forces differed on the number of casualties after last week's clashes in Raja town.
SPLA-IO military spokesman in Western Bahr el Ghazal, Nichola Gabriel Adam, claimed that they killed about 75 government soldiers, captured dozens of prisoners of war as well as arms and ammunition.
"We managed to take control of the whole town and captured nearly 20 AK-47 and PKM. We also managed to capture 40 soldiers from different divisions including the National Security the Military Intelligence Service. We killed 75 soldiers and injured 125 others from the government forces," he said.
"Unfortunately, we lost four soldiers from our side during the battle," Adam added.
Adam also claimed that some government soldiers defected and joined the rebellion.
For his part, the SPLA deputy military spokesman, Santo Domic denied the figures while claiming that their forces have inflicted heavy casualties on the SPLA-IO rebels.
"This is a lie. I arrived in Raja around 11: 45 am and the rebels began their attack at around 2:00 pm along the stream near the State House. 24 rebels were killed on the spot and we managed to capture 5 PKMs, 7 AK-47 rifles among other things. We only lost two soldiers and four wounded were wounded," said Domic.
Domic's statement contradicted the figures provided by the state minister of information Omar Isahaq. Isahaq told Radio Tamazuj that at least 10 civilians, five government soldiers were killed during the clashes. He claimed that about 58 rebel soldiers were killed in Raja.