Martin Elia: IGAD insists sanctions will go ahead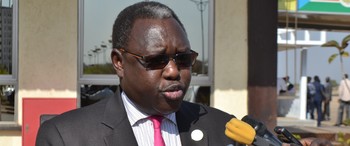 File photo: Martin Elia
The Intergovernmental Authority on Development (IGAD) insists sanctions on those blocking peace in South Sudan will go ahead as planned, a top South Sudanese government official said.
"They [IGAD] insisted that sanctions against individuals must go ahead and those who obstruct and violate peace will be sanctioned," said Martin Elia Lomuro, South Sudan's minister of cabinet affairs.
The top official, who arrived back in Juba today from IGAD meetings on peace revitalization in Addis Ababa, said sanctions on peace spoilers will be passed by the IGAD Council of Ministers through the AU Peace and Security Council, and not the UN Security Council.
"This is the thing we wanted to make sure Africa finds African solutions to its own problems, so sanctions would be handled by our own organizations," he said.
Lomuro urged the international peace monitoring body, also known as CTSAMM, to investigate ceasefire violations properly. He reiterated his government's commitment to the peace process in the country.
The government official said President Kiir's participation at the 30th Ordinary Session of the Assembly of Heads of State and Government of the African Union (AU) returned South Sudan back on track from what he termed as "rumours and misreporting".
Kiir has today, arrived back in Juba from a visit to Addis Ababa, where he led the South Sudanese government delegation to the 30th Assembly of Heads of State and Government of the African Union (AU), which met from 28-29 January 2018 under the theme: "Winning the Fight Against Corruption: A Sustainable Path to Africa's Transformation".