Maridi residents demonstrate in support of 32 states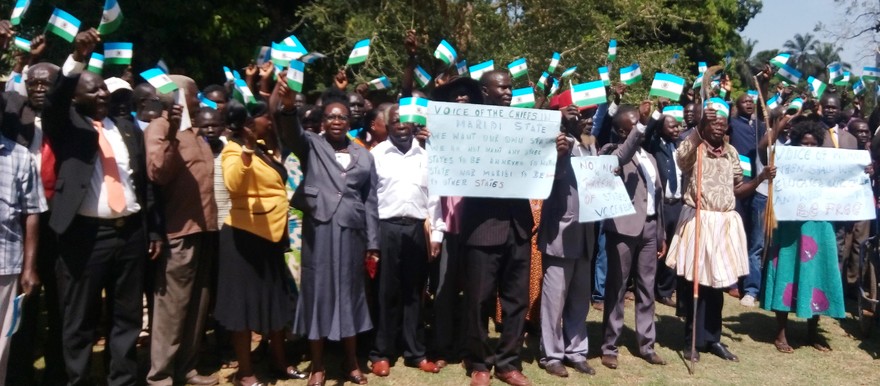 Photo: Residents of Maridi demonstrate in support of the current 32 states on 20 December, 2019 (Radio Tamazuj)
Hundreds of local residents in Maridi State took to the streets on Friday and peacefully demonstrated in support of maintaining the 32 states in the country.
The demonstrators carried banners in support of the current 32 states and the Abyei administrative area.
A written petition, addressed to President Salva Kiir, was handed over to the state governor, Africano Mande during the demonstration.
Edward Bukulu, a representative of the demonstrators, said the petition was the position taken by citizens of Maridi after wide consultations.
"The popular call from the people of Maridi was for a state as it is today with all boundaries, nothing less and nothing more," Bukulu said.
"So when Maridi was accorded status of a state, its people were the most jubilant among millions of other South Sudanese," he added.
On his part, the state governor welcomed the petition and assured the citizens of Maridi that their document would reach the president in Juba.
Maridi is one the states created by President Kiir in October 2015.
President Kiir and opposition leaders missed the November 12 deadline to form a unity government and agreed to give themselves another 100 days to form the government.
President Kiir, opposition leader Riek Machar and a handful of other groups signed the peace agreement in September 2018. However the parties have failed to create a unified army and determine the number of states since the deal was signed.