Maridi, Jubek states sign twinning agreement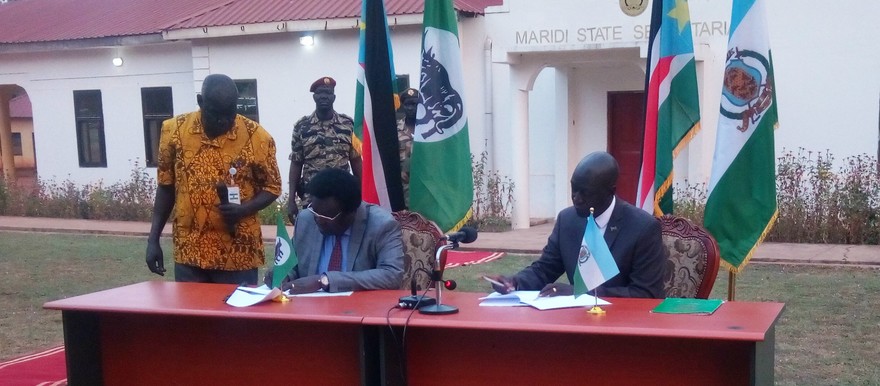 Maridi governor Africano Mande (R) and Jubek governor Augustino Jadallah (L) signing twinning agreement in Maridi town on 17 January, 2020 (Radio Tamazuj)
Authorities in Maridi and Jubek States on Friday last week signed a Memorandum of Understanding (MoU) aimed at building strong economic relations between the two states.
Speaking at the signing ceremony in Maridi town, Maridi State governor, Africano Mande said they discussed how both states can help each other four years ago.
"The best way the two states can move forward, contribute and influence decision making in this country is to come together and share capabilities and professionals. That is why we came up with the idea of twinning between the two states," he explained.
Mande expressed optimism that the twinning agreement signed between the two states will create several opportunities for citizens.
On his part, Jubek State governor, Augustino Jadallah Wani said the cooperation agreement seeks to economically empower the population.
"What we have come for is not a joke. I want to assure the people of Maridi that what we have come for is serious. Strong economic relations can bring strong unity and we want to economically empower our people to bring unity in this country," Jadallah said.
He added, "We are going to create cooperation between the two states up to county level. The first step is to empower our people".
Governor Jadallah urged people to be creative, unite and shun divisive politics.
Several officials, non-governmental organization representatives, church leaders and women's groups attended the signing ceremony.