Maridi government installs solar-powered street lights to help fight crime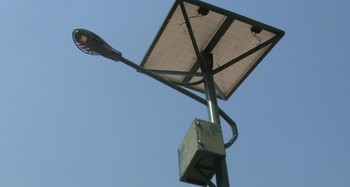 The Maridi state government has install solar-powered street lights in town in bid to reduce crime.
Speaking to Radio Tamazuj on Wednesday, the state minister of physical infrastructure Alison Barnaba said the installation of the solar-powered street lights was a government plan to improve the security situation in the town.
"This is a contribution from the governor and little money from the local non-oil revenue collected by the government. So it is a way of providing services to the people of Maridi state," he said.
Alison ؤalls on the general public to protect the street lights from damage.
Meanwhile, the director of electricity in Maridi welcomed the solar-powered project power, saying the electric power generation company had stopped working due to fuel shortages.
Several citizens in Maridi welcomed the installation of the street lights in the town of Maridi, saying it improve security at night.