TORIT/LAFON -
13 Oct 2021
Man injured, an unknown number of cattle stolen in E. Equatoria State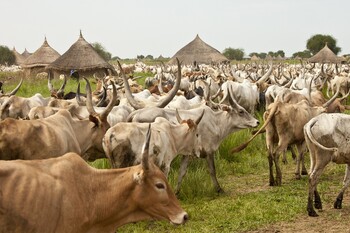 A 40-year-old man was injured in Lafon County and an unspecified number of cattle stolen following cattle raids in Eastern Equatoria State's Torit County on Sunday.
Officials say the man identified as Akileo was injured while on his farm in Tabwor village in Longiro Payam of Lafon County a day after a cattle raid in Ongelet Village of Bur Payam in Torit County.
"When the cattle owners followed the footmarks, they proved the footmarks entered Tabwor which led them to conclude that the raiders could be from Tabwor. It has already created tensions between two communities of the two villages and that was why the following day the people of Ongelet took the law into their own hands and they went and shot an old man called Akileo on his farm," Lafon county commissioner Magisto Ukachi Agweri told Radio Tamazuj.
Ukachi said Akileo is currently nursing his wounds at Imehejek County Hospital but an unknown number of cattle were stolen in the raid.
He urged the two communities to remain calm and let the government try to recover the cattle despite the logistical challenges facing them.
Torit county commissioner Jacob Attari Albano confirmed the raid and urged Lafon authorities to work hard and return the raided cattle to avert further violence.
"I am appealing to the people on the ground to remain calm now. I don't want them to do anything now and I am also calling to those people in Lafon to cooperate with the government to return the cattle to avoid further escalation of conflict," he concluded.