Man arrested for rape and theft in Hiyalla, Torit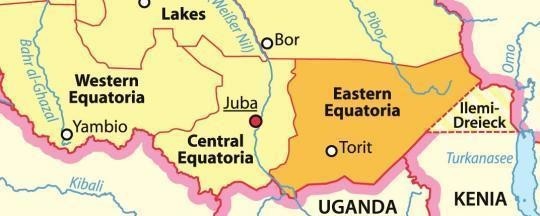 Police in the Eastern Equatoria State capital, Torit, is holding one male suspect for allegedly raping a 23-year-old woman and raiding 172 goats in Hiyalla village last week.
Three gunmen, believed to be from Haforiere village, raided goats from Hiyalla and on their way found two women (names withheld) coming from a garden and proceeded to rape one of them.
"The information came to us from Hiyalla that about 172 goats were taken from the area and that it was those of Haforiere who took them. In the process of raiding, they got two women coming from the garden, and that they took these women a long distance. One is 45 years old and one is 23 years old. The 23-year-old testified that she was raped. She was brought to us here in Torit and it was proved that she was raped," Maj. Justine Kleopus Takuru, the State's police spokesperson said.
14 goats were later recovered and handed back to their owners in Hiyalla on Thursday by Haforiere youth in collaboration with the Hujang Kingdom peace and reconciliation committee.
"We opened a case of goat raiding and also that of rape, the good thing is that the community policing in Haforiere arrested one from among the three who went for raiding in Hiyalla and he is here in police custody and he admitted that he was among those who raided goats," Takuru said. "So after arresting all of them we will put them in line so that this woman will point who exactly raped her. He is now our prime suspect."
Dr. John Isaac, the medical director at Torit hospital, confirmed that the victim is receiving treatment and psychosocial support and is in stable condition.
Otuho peace task force chairperson, Attari Jacob Albano, said Haforiere village has been given only three days to arrest the other criminals before the case is handed to the government for further action.
"We, Otuho peace task force are still pressurizing the Monyomiji (youth) of Haforiere to arrest the rest of the criminals. We have been talking to them. They have arrested one person and they are still searching for the rest of the criminals," he said.
The community leader appealed to the Hiyalla community to remain calm and avoid taking the law into their hands as efforts are already underway to bring the perpetrators to book.
Idwa Dominica, the first director-general at the state ministry of gender, child, and social welfare condemned the rape and warned the community against using women as a means of harming other communities.
"I condemn that act. This is really like intimidation to women. If you feel like fighting your brother, just go face to face instead of using women to cause pain on the other side. I don't expect a man to do such acts. I am appealing to my brothers and fathers to stop such practices, assuming that was your sister who was raped, how will you feel?" Idwa cautioned.