Malong warns Kiir over 'sensitive' information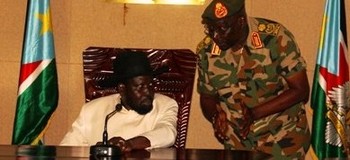 Former army chief Paul Malong warned President Kiir against exposure of sensitive information, threatening to retaliate if he and his aides continue to tarnish his image.
"This is to inform President Salva Kiir Mayardit and his men, especially his Press Secretary Ateny Wek Ateny that they should cease from hurling insults at me and exposure of what they called sensitive and classified information to the public about the state matters and any other matter deemed so," said Paul Malong in a statement on Saturday.
Malong, who is leading a rebel group, urged Kiir to direct his aides that their loose lips ought to be zipped or else they will be attracting serious retaliatory statements.
"We have been friends and have lived together and having adequate knowledge of each other, so you should stay warned that talking about me always will attract repercussions," he said.
"Today henceforth, I have permitted you to say anything you deem fit to be said about me and the next turn will be mine," he added.
South Sudan government has recently opposed to the participation of opposition group led by Gen. Paul Malong saying he was opposed to the 2015 peace agreement during his time in office as army chief.