Malong wants to join peace talks in Addis Ababa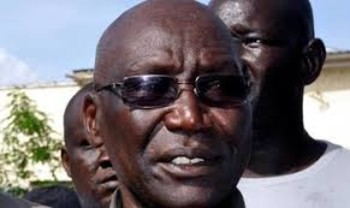 File photo: Paul Malong addresses the media after returning to Juba, May 13, 2017. REUTERS
A former South Sudanese army chief said he wants to be included in the ongoing talks between the government and the opposition in Addis Ababa, Ethiopia.
General Paul Malong Awan wrote a letter on 10 February to the IGAD Special Envoy for South Sudan Ismail Wais requesting inclusion in the ongoing peace process between South Sudanese warring in Addis Ababa.
"I recognize that IGAD has been in the forefront in the search for peace in South Sudan since war broke out on 15th December 2015. This effort is commendable and it is my hope that peace will be realized in the shortest time possible," Malong's letter reads in part.
The exiled army general further said reports that he plans to destroy peace in the country are unfounded.
"You would recall that I was arrested by President Salva Kiir and released without charges after protracted negotiations by the elders. The government then went ahead and declared me a rebel. All these provocations are being done in an effort to push me into rebellion," he said.
Malong pointed out that he wants to see peace in South Sudan, adding the ongoing war is uncalled for and its continuation would lead to the suffering of South Sudanese.
A close ally of Malong who preferred anonymity told Radio Tamazuj that General Malong should be included in the ongoing peace talks as a South Sudanese citizen.
Malong, who had led a campaign against South Sudanese rebels, has been under house arrest in Juba since May 2017 after President Kiir removed. Malong was released to exile in neighboring Kenya by Kiir in November last year.