Malong suspends his spokesperson, gives no reason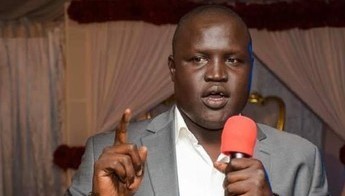 File photo: Sunday de John
General Paul Malong, a leader of the rebel group South Sudan United Front (SSUF), has announced the suspension of the movement's official spokesperson, Sunday de John.
The rebel group is part of South Sudan Opposition Movements Alliance (SSOMA), an umbrella of holdout opposition groups that signed a truce agreement with the government in Rome, Italy on January 12, 2020.
The movement was founded in April 2018.
In a statement on Monday, General Malong said, "On an equal note, SSUF/A leadership wishes to acknowledge and appreciate Dr. Sunday de John for his commendable role and contribution to the movement."
General Malong, a former military chief, gave no reasons for Sunday's suspension from his position.
Reacting to the news of his suspension, Sunday said: "I read my suspension letter on social media, so I didn't receive it officially. The decision came after disagreements during our meetings recently."
Sunday, who has long been seen as Malong's right-hand man, said General Paul Malong and his group have recently reached out to President Salva Kiir, seeking a separate peace forum.
"I objected to the move and told that it is not good for the movement to have two peace forums. I said the Rome peace forum is the best because we are part of SSOMA and it has international standards," Sunday told Radio Tamazuj on Tuesday.
Sunday further said personal talks between Malong and Kiir's associates are blocking the movement from fully committing to the Rome peace forum.
The opposition official has lashed out at Malong's associates in the movement for orchestrating a "conspiracy" that led to his suspension from the position of spokesperson.
"Despite what had happened, I will remain a member of the movement. I know that the conspiracy was orchestrated to force me to quit, but I will not leave the movement because we want to build it to be a strong movement," he concluded.
General Paul Malong could not immediately be reached for comment.