Malong, sanctioned by the US, denies responsibility for private militia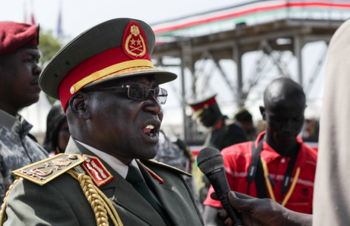 File photo: General Paul Malong
South Sudan's former army chief, who was sanctioned by the United States and Canada for allegedly obstructing peace efforts, has denied bearing "ultimate command responsibility" for the formation of a private militia accused of orchestrating massive violence since December 2013, which marked the start of the current civil war.
General Paul Malong Awan told Radio Tamazuj in an interview on Thursday that he had no any formal command authority over the private militia known as 'Mathiang Anyoor' formed at the start of the crisis before being dispersed or absorbed into formal service branches.
"Those troops were trained and equipped by the government. Also, the chief of general staff in any country executes orders of the commander-in-chief. The minister of defense is also responsible for the policies of the army, and sometimes the orders come directly from the commander-in-chief to the chief of general staff," Malong said.
"When I was the chief of general staff I was just executing orders and even the current army chief is just implementing orders from the commander-in-chief, so no orders directly from the chief of general staff," he explained.
South Sudan's President Salva Kiir is the commander in chief of the armed forces.
Malong pointed out that the private militia absorbed into the former military service in the country are currently fighting against the opposition. "They are actually government troops and even now they are still fighting after my removal," he said.
Malong, who is among the senior political and military figures from both sides of the conflict that the United States in May 2014 slapped with sanctions for fomenting the civil war, said he did not have financial assets in the United States.
"I don't have any personal problem with the United States. It is not necessary for me to travel to America if I am denied to go there, and even the claim that I have financial assets in American and Europe is untrue," Malong said.
South Sudan's information minister Michael Makuei declined to comment on Malong's statement. "How can I comment on it? I am even sanctioned, I was sanctioned together with him [Malong], so I don't want to comment on the matter," Makuei said.