Malong's top aide: "I was forced to be a rebel"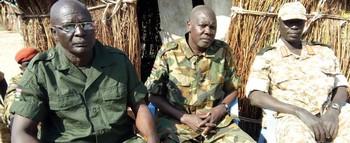 A top aide of the exiled former army chief Paul Malong Awan who joined rebel forces in Northern Bahr al Ghazal region said he was forced by the government to a rebel.
"I was forced to be a rebel. Security forces were sent to chase us away, that's why we left. So those who came here with me here were forced to run away because of security reasons, "Can. Kuol Athuai Hal, former Aweil North county commissioner, told Radio Tamazuj this afternoon.
Athuai claimed that he joined opposition forces commanded by Agany Abdel-Baqi in Northern Bahr al Gazal because he did not feel safe in his area.
He claimed that he joined the rebel with 1,500 soldiers.
The new rebel official denied reports linking them to the former military chief Paul Malong. "I left my home in fear of my life. I am here with General Agany. We have no any plan to form a new rebel group right now because we were just forced to run way," he said.
He accused governors of Northern Bahr al Gahzal of targeting them for unclear reasons.
The rebel group commanded by Agany Abdel-Baqi, who is a native of Aweil, has been fighting to topple Kiir's administration.