Malong's associates go into hiding in Aweil East state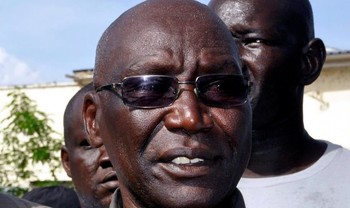 File photo: Paul Malong addresses the media after returning to Juba, May 13, 2017. REUTERS.
Several associates of the exiled former army chief Paul Malong Awan have gone into hiding in South Sudan's Aweil East State, saying they do not feel safe in the area.
"I have gone into hiding since Thursday morning. I left my house with Kuol Athuai Hal. We are not in the area and I cannot tell you where I am currently," Manut Yel Lual, an ally of former military chief, told Radio Tamazuj on Friday.
Manut, who was a tax collector and former Madhol commissioner, claimed he decided to go into hiding in the bush after security operatives on Thursday night went to his home in the area of Madhol and started talking about his name.
A relative said he saw Manut Yel together with Kuol Athuai Hal, former Aweil North county commissioner on motorbikes leaving the area.
"In the morning I saw Manut with Kuol Athuai on separate motorbikes. I was surprised because he has a car, also the same for Kuol Athuai. I did not ask but I did not see them again in the area," he said.
Madhol County Commissioner Peter Mou Kuan said he had no information that Manut Yel left his house because he didn't feel safe. "I am the county commissioner. I am not aware of this information," he said.
A close aide of Malong, on condition of anonymity, confirmed that several associates of the exiled former army chief are living in fear in Aweil East State. He pointed out that Malong's son Garang Paul Malong was removed from his position as the state minister of information by Governor Deng Deng Akuei on Friday night.
Garang Paul Malong also confirmed his removal from office by Governor Deng Deng Akuei. However, he did not give more details.
A family member said National Security agents have been ordered by the state governor to arrest Garang Malong Awan. "I don't know the reason. I heard that soldiers will come home to arrest Garang without clear charges," he said.
"I have been informed that Manut Yel and other people have run away two days ago. The only charge I know was searching for weapons, but it seems the issue has turned into a different thing," he added.
On Thursday, government troops reportedly raided the home of Paul Malong Awan in Malualkon town and assaulted people while searching for weapons.
Malong, who had been under house arrest in Juba, is currently outside the country. He reconciled with Kiir in November after a tense standoff threatened to escalate into violence.