Malong not taken into NSS detention in Juba: wife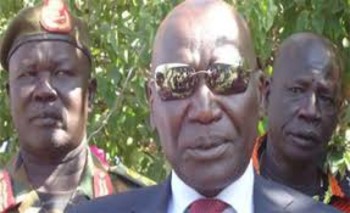 File photo: Paul Malog
South Sudan former army Chief Paul Malong has not been taken to Juba's National Security headquarters, his wife told Radio Tamazuj today, after reports that Malong has allegedly been picked from his home and taken to a notorious complex known as Blue House.
General Paul Malong Awan is being confined to his home in Juba for security reasons. He was sacked in May by President Kiir after resignations by senior military officials.
According Malong's wife, General Malong was never picked from his home and taken to NSS detention center in Jebel. "Malong is currently at home in Juba. These rumours have been circulating for more than a week now, but he is still under house arrest in Juba," she said.
Lucy Ayak further said Aweil community elders have been seeking audience with President Kiir over Malong's release from house arrest, but there is no any positive response so far.