Malong: Kiir thwarted our attempts to join peace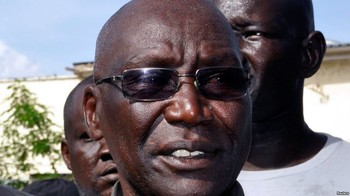 South Sudan United Front's attempts to join the peace process have been thwarted by President Salva Kiir, Malong's spokesman said.
Sunday de John, the official spokesman of the SSUF group, said in a statement seen by Radio Tamazuj on Thursday that their attempts to be part of the ongoing peace talks suffered a setback after President Kiir allegedly blocked them.
The rebel official further said the East African regional bloc IGAD, which is mediating the South Sudanese peace talks, turned deaf ears to their request to join the ongoing negotiations.
He pointed out that the isolation of their opposition group is out of fear exhibited by the Kiir administration.
"In light of this we are informing the public and the international community that President Salva Kiir Mayardit is anti-peace since he is not on a genuine note interested to sign a lasting peace. The recently signed or would be signed peace agreement shall not hold because it is not inclusive," partly reads the statement.
De John noted that the Khartoum and Entebbe proposals are just maintaining the status quo in South Sudan without reflecting on aspirations of South Sudanese.
However, the rebel group reiterated its commitment to peace and stability in South Sudan.
The group accused the country's president Salva Kiir of failing to deliver services to the people of South Sudan. "It goes without saying that even if President Salva Kiir Mayardit was to be willingly allowed to remain in power for the next 100 years, he would create or add no value to the lives of South Sudanese people," the rebel group said.
In April, South Sudan government said the former army chief, Gen. Paul Malong should be excluded from the peace talks, pointing out that the participation of Awan, a former ally of President Kiir, would affect the ongoing peace process.
The government accused the ex-army chief turned rebel leader of being a believer in violence rather than peaceful means.