Malong denied permission by Kiir to travel to Nairobi: wife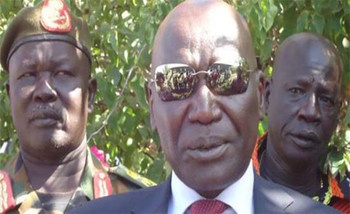 File photo: General Paul Malong
South Sudan's former army chief has been denied permission to travel to Nairobi, his wife told Radio Tamazuj on Wednesday, after asking President Kiir to allow him to go for DNA sampling after his daughter died when a fire broke out at Moi Girls School last week.
General Paul Malong Awan is being confined to his home in Juba for security reasons. He was sacked in May by President Kiir after resignations by senior military officials.
Government officials were unavailable for comment. Calls to the presidential spokesman Ateny Wek Ateny were unanswered.
According to Malong's wife, Kiir decided to deny permission to Paul Malong to travel to Nairobi for NDA sampling for his late daughter Alakiir Malong.
"I talked to General Malong and he told me that the president yesterday refused to allow him to go to Nairobi for DNA sampling, so this is what happened," Lucy Ayak told Radio Tamazuj today morning.
"Malong talked to the president since Saturday about the death of his daughter in Nairobi, but yesterday the president responded and said Malong cannot be allowed to go," she added.
She pointed out that Malong's blood pressure shot up after President Kiir rejected his request to go to Nairobi.
The decision, Ayak said, is not good because Malong is unable to take care of his family after being confined to his home in Juba since May.
Lucy urged the government to announce charges against General Paul Malong instead of restricting his movement.
Malong's daughter died in a dormitory fire in Kenya's capital Nairobi on over the weekend. Alakiir Malong, a form one student at Moi Girls' Secondary School, died with eight other Kenyan students when a fire broke out in their dormitory on Saturday.