Malnutrition rates drop sharply in Yei town: official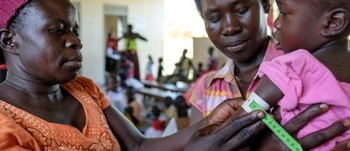 File photo: A health worker screens a South Sudanese child for signs of malnutrition at a health center in Nyumanzi refugee settlement in Uganda, May 2017. © UNHCR/Jiro Ose
The rate of malnutrition among children in South Sudan's Yei River State has drastically decreased, a health official has said.
Last year, ACROSS organization in partnership with UNICEF established a malnutrition stabilization centre at Yei State Civil Hospital to manage cases of acute malnutrition in the region.
Anda Manase, who is in charge of the centre, told Radio Tamazuj on Friday that the number of malnutrition cases reported has drastically dropped.
"Last year we admitted 107 cases and we managed them very well and this year we have admitted only 5 patients in the ward. Most of the cases were brought from the rural areas where there is no access to treatment," he said.
"Basically here when we admit patients, we give them health education every day and conduct outreach programs in the town," he added.
Manase said most of the patients come from rural villages where they lack access to treatment while attributing the low records to intensified community health education and quality management at the treatment centre.