Makuei says government's term will expire in August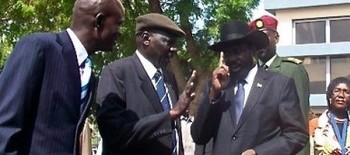 South Sudanese government's term in office will expire in August this year, if no election conducted and peace accord signed with the rebels, a top government official said.
According to the August 2015 peace deal signed by President Salva Kiir and his former deputy Riek Machar, the elections must take place 60 days before the transitional period comes to an end in 2018.
Information minister and government spokesman Michael Makuei told Radio Tamazuj on Friday that the unity government's term in office will come to an end in August.
Mr. Makuei declined to comment further on his government's plan when the government term expires without a peace agreement reached with the opposition. He said: "The term will expire in August. We cannot talk about it now, and when we reach that time we will talk about what to do."
Separately, the outspoken minister expressed his frustration with the peace process led by the eastern African regional block saying they are not serious to bring about peace in war-torn South Sudan.
He pointed out that the period given by the bloc to reconvene the second round of the revitalization forum is not enough to reach an agreement on all contentious issues.
"If there were serious they would have not given us four days only to discuss and agree on all the outstanding issues. It is not good to negotiate under pressure, so we need time so that we reach lasting peace," Makuei said.
"If we fail to reach an agreement within the four days given by IGAD, the mediation will decide on the way forward," he added.
The regional bloc overseeing the talks, IGAD, has set a deadline from 26 to 30 April for South Sudan's parties to agree on all contentious issues.