Makuei: No public Independence Day celebrations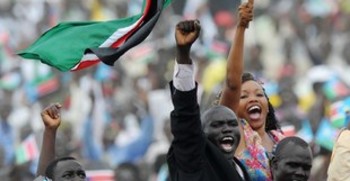 Thousands celebrate South Sudan independence in the capital Juba on July 9, 2011. (Roberto Schmidt/AFP/Getty Images)
The government has announced that there will be no public celebrations of the country's 8th independence anniversary.
South Sudan became independent on July 9, 2011, after South Sudanese overwhelmingly voted for secession from Sudan in a referendum.
Government spokesman and Information Minister Michael Makuei told Radio Tamazuj that a private function will take place at the state house.
"There will be no celebration at the public level, but there will be a celebration at the Presidential level whereby there will be a function to be held in the office of the president J1 to be attended by all the guests and this is where the president will address the nation," he said.
Makuei added that the government is facing harsh economic times and would wish to use available resources sparingly.
"It is costly. Our economic situation will not allow us to make that lavish celebration at a time when we are unable to pay salaries for our employees. So instead of spending that money on the celebration, we will prefer to have it paid to the people," he added.
This is the fourth consecutive year since the Independence Day was celebrated.
Last week, the government announced July 9 as a public holiday.