Makuei denies he called for protests against Khartoum peace deal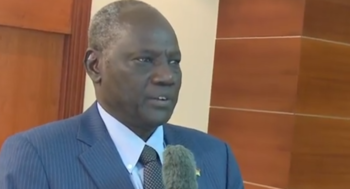 Photo: Information Minister Michael Makuei
South Sudan's Information Minister Michael Makuei denied reports that he called on citizens to take to the streets in protest against the Khartoum peace agreement.
President Salva Kiir and opposition leader Riek Machar on Wednesday signed a framework agreement, raising hopes of a final peace deal between the warring parties.
"This is fake news. It is not true that we stood against it. The fact is that it is us who brokered this document until the last minutes when it was signed," Michael Makuei from Khartoum this afternoon.
Makuei, who is also the government spokesman, accused people who he did not mention by names of working against peace in South Sudan.
"These people who want to create problems to South Sudan," he said.
He pointed out that the Khartoum Declaration of Agreement under the auspices of Sudan's President Omar al-Bashir was reached by all parties with their full consent.
The official reiterated his commitment to the ongoing peace process to bring lasting peace in South Sudan.
Separately, Makuei said a new round of talks between the South Sudan parties kicked off in Khartoum today.