Major role for Ugandan army in South Sudan 'until the country is stable'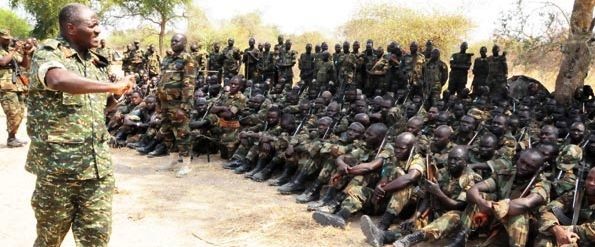 The Ugandan army, which has played a major role in the civil war in South Sudan, will remain 'until the country is stable,' says a top official in Kampala. The foreign army was called in by President Salva Kiir after his SPLA troops suffered defeats in Bor and Malakal earlier this month.
"The Ugandan army will stay in South Sudan until the country is stable," said Okello Oryem, Uganda's junior foreign minister. The same position was also affirmed by information minister Rose Namayanja, who said the government would not bow to foreign pressure to withdraw its troops.
Uganda's intervention helped the South Sudanese military ward off a rebel advance on Juba and later eject them from Bor on 18 January. Reporting from Kampala, the Wall Street Journal noted yesterday, "After falling under a rebel ambush when they tried to retake the strategic town of Bor in January, Ugandan troops called in reinforcements and fired rounds of heavy artillery to reduce a once-thriving oil outpost to rubble."
According to Small Arms Survey, a Geneva-based think tank supporting researchers in South Sudan for the last several years, SPLA was not strong enough to defeat the opposition forces of Riek Machar in Bor on their own, and a Ugandan force with up to 5,000 soldiers led the way in recapturing Bor, with only a minor role for the SPLA.
"Contrary to the government's declaration, the force that re-took Bor included less than 20% SPLA troops, the rest being UPDF," or Uganda People's Defense Force, says Small Arms Survey. The same organization reports also that UPDF troops reached Malakal earlier this week.
'Defeat him'
Ugandan troops began to arrive in force after President Yoweri Museveni declared on 30 December his intention to crush the rebel leader Riek Machar – "to go for him" and "to defeat him," as he put it. Besides ground forces, Museveni also sent four helicopters and four jets.
Museveni's animosity toward Machar likely dates to before the current conflict, since his troops fought alongside SPLA troops against militia allied to Khartoum, including Machar's forces and the LRA, during the previous civil war in South Sudan in the mid 1990s.
His country's economic interests in South Sudan are also substantial, with exports hitting $1.3 billion on 2012, making South Sudan the country's leading source of foreign revenue, higher even than tourism, according to the central bank.
Acting on the invitation of President Salva Kiir, the bulk of the Ugandan forces began to arrive after a disastrous first week of January in which the South Sudanese government suffered several battlefield defeats as well as mutinies at garrisons across Equatoria.
From 1 January, defected elements of the SPLA 8th Division accompanied by thousands of armed Nuer civilians began marching south from Bor, defeating a counter-attack at Gemeza on the Bor-Juba road on 2 January and ambushing another SPLA column at Pariak on 4 January, resulting in heavy losses for the South Sudanese army.
At this time, reports Small Arms Survey, "the president, trying to gather more forces in Juba, asks garrisons from Nzara, Morobo, and Yei to send men to the capital. Instead, most mutiny and join the rebellion, but in an uncoordinated way, notifying Machar only afterwards."
"Limited fighting develops in Maridi and in Yei. Meanwhile, Equatorian politician Alfred Lado Gore, who had managed to flee Juba, starts to raise guerrillas among the Bari, the Madi, and the Pojulu," adds the report.
The arrival of thousands of Ugandan troops toward the end of the first week of January helped mitigate the imminent danger to the capital Juba, but it took SPLA and UPDF fighters weeks to drive opposition forces from Central Equatoria and back north into Jonglei, Lakes and other outlying area.
Collateral damage
The Bor Youth Council estimates that more than 800 people were killed in the three weeks of clashes for the control of the town. The military of South Sudan says the civilians were killed by retreating rebels, but a rebel representative in Kampala blamed the heavy casualties on "indiscriminate" shelling from Ugandan forces.
Aerial attacks by Ugandan forces have also been confirmed, with reports that the UPDF even lost two Mi-24 combat helicopters when they were downed by defected SPLA soldiers in the Bor area in late December.
The involvement of the Ugandan warplanes in bombardments in the Bor area may explain why two US Osprey aircraft attempting to evacuate people from the UN base in Bor took fire on 24 December, resulting in wounding of four US Navy Seals.
Diplomats react
The heavy involvement of Uganda in the civil war in South Sudan prompted concerns from Ethiopia, which is trying to maintain a more neutral position in its role as lead mediator at the Addis Ababa talks, as well as from diplomats of other countries.
Last week's ceasefire agreement included provisions on withdrawal of South Sudan's allied forces from the 'theatre of operations,' but not from the country overall, as demanded by the rebel negotiators in Addis Ababa.
Norwegian Foreign Minister Borge Brende told Reuters on Wednesday in Ethiopia, "It is now important that President [Yoweri] Museveni of Uganda starts the process of reducing and later pulling out the Ugandan troops that are in Juba and surrounding areas."
But with the reported arrival of UPDF troops this week also to Malakal, the capital of the oil-producing Upper Nile State, the ceasefire appears to be facilitating strategic repositioning of the Ugandan army rather than its withdrawal. This development "caused serious concern both in Addis Ababa and Khartoum over Kampala's ultimate strategic aims," the research group Small Arms Survey observed.
Rabie Abdelati, a top member of Sudan's ruling NCP, was quoted recently as saying, "South Sudan does not need Uganda's military help to solve its internal problems." His government has itself announced plans to deploy military observers to Malakal as part of the IGAD ceasefire monitoring team.
The history of Uganda's involvement in neighboring countries suggests that its interventions are rarely short-lived. Its troops stayed in Rwanda throughout the mid 1990s, in Congo for five years, and in Somalia also for the last six or seven years.
Photo: Gen. Katumba addressing UPDF soldiers in Bor, South Sudan, published by the major Ugandan newspaper Daily Monitor on 22 January 2014.
Related: In pictures: UPDF in South Sudan (New Vision, 22 January 2014)