ADDIS ABABA -
12 Mar 2013
Major breakthrough at Addis talks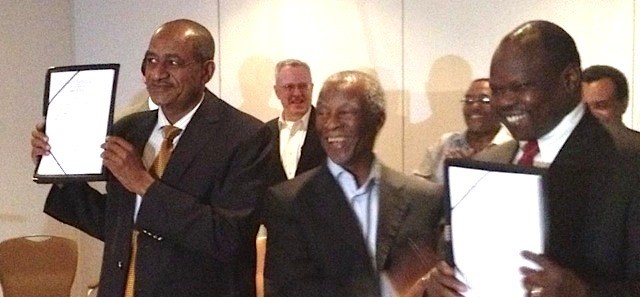 The lead negotiators of Sudan and South Sudan signed this morning an 'implementation matrix' on the Cooperation Agreement of last September, only four days after another major breakthrough on the security file.
The document ('matrix') charts the obligations of each country according to an updated timetable for the terms of the agreement made last September in the Ethiopian capital Addis Ababa.
Two months had passed since a presidential summit committed the two countries to such a matrix, but few signs of progress on the initiative emerged until recent days.
A copy of the document released to the press by the African Union High Level Implementation Panel, which mediates the talks, contains a list of about 100 'obligations' of one side or the other, running for 16 pages.
Among these commitments are withdrawal from the demilitarized buffer zone along the border, steps toward creating a joint monitoring force, formation of committees to oversee work on elements of the agreements, formation of the Abyei Area Council and Administration, border demarcation, opening of border crossings, and reactivation of oil production.
On the matter of oil production, both governments agreed that within two weeks they shall instruct oil companies to re-establish production "as soon as technically feasible." However, they have also agreed that a review of the existing metering system shall take place prior to resumption of production, with each party conducting the review respectively within its territory.
Negotiators Idris Mohamed Abdel Gader and Pagan Amum Okiech signed the document, 'Adoption of Implementation Matrix,' on behalf of their governments, making the matrix an integral part of the peace deal signed last September.
Since several items on the matrix are marked already 'completed,' it appears that this document – or a version of it – was already in use as a reference for some time, but that the breakthrough on the security file Friday permitted the two sides to celebrate these commitments more openly.
Photo release by the AUHIP mediation: Idris Mohamed Abdel Gader (left) and Pagan Amum Okiech (right) holding the signed implementation matrix on the Cooperation Agrements, with AUHIP Chief Thabo Mbeki (center).
Related coverage:
Document: Implementation Modalities for Security Arrangements (9 March)
Nyuon agrees to evacuate Mile 14 by 24 March (9 March)