Machar's SPLM/A-IO suspends participation in joint security bodies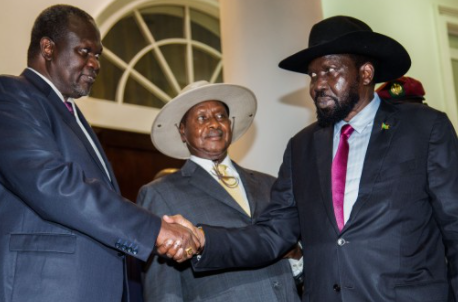 The chairperson of the Sudan People's Liberation Movement/Army in Opposition (SPLM/A-IO) and South Sudan's First Vice President Riek Machar on Tuesday said the SPLM/A-IO will no longer attend security mechanisms meetings, saying they were dysfunctional in the implementation of the peace agreement.
The decision was arrived at an SPLM/A I-O's Political Bureau's meeting in Juba on Tuesday where they discussed and evaluated reports from the security mechanisms components and said that attacks on their forces in different parts of the country have continued unabated despite reports to the security mechanisms.
"Deeply concerned by the ongoing attacks on SPLM/SPLA (IO) cantonments and training centers in Kaljak and Mirimir in Unity State and in Jekou in Upper Nile State, the PB approved the suspension of participation of SPLM/SPLA (IO) in the security mechanisms' meetings pending the resolution of the issues raised at the political level," a statement signed by Machar reads. 
 
The security mechanisms comprising representatives from different parties to the 2018 peace agreement include the Joint Defense Board (JDB), Joint Transitional Security Committee (JTSC), Joint Military Ceasefire Commission (JMCC), Strategic Defence and Security Review (SDSR Board), Ceasefire and Transitional Security Arrangements Monitoring Mechanism (CTSAMM), the National Transitional Committee (NTC), and the Reconstituted Joint Monitoring and Evaluation Commission (RJMEC). 
"The Movement's Political Bureau strongly condemns the attack on the movement's forces. We are committed to implementing the revitalized conflict resolution agreement," the statement added.
On Monday, SPLM/A-IO representatives to the security committee boycotted planned meetings and announced the suspension of their activities in all meetings until further notice.
The peace monitors RJMEC have said the implementation of the peace deal has been slow and called on the parties to develop a clear roadmap and strategy to implement the outstanding critical tasks as the end of the transitional period approaches. Some of the critical outstanding tasks, according to RJMEC, include the unification of forces and the permanent constitution-making process, both tasks fundamental to the holding of free, fair, and credible elections.