'Machar will not return without forces' say rebels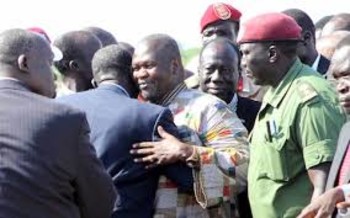 The former vice-president of South Sudan, Riek Machar, who is living in exile in South Africa, will not return to Juba without his forces, the rebels said.
"We do not trust Salva Kiir, so we cannot allow our chairman to return to the capital without heavily armed forces that are equal to the forces of the government in Juba," Manawa Peter Gatkuoth, deputy head of the SPLM's committee for information told Radio Tamazuj today.
The senior opposition official said the UN-mandated regional protection forces can provide protection to citizens in the capital when peace comes to the country.
Manawa pointed out that the country's president was supposed to seek forgiveness of the people of South Sudan.
He accused Kiir of conspiring against Riek Machar in order to exclude him from South Sudan government." Machar will return to Juba when there is a negotiated peace agreement through the revitalization forum. We are committed to peace because we know our people are suffering," he said.
South Sudan's president Salva Kiir has recently called on his exiled former deputy and rebel leader Riek Machar to return to the country.
Kiir said during the SPLM Liberation Council meeting last week that he would guarantee Machar's safety a citizen of the country.