SOUTH AFRICA -
31 Jan 2018
Machar unveils position paper on peace revitalization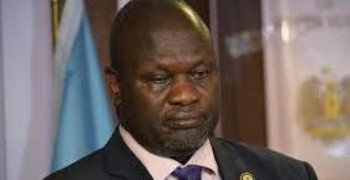 File photo: Riek Machar
South Sudan's main rebel leader Riek Machar has unveiled a position paper on the revitalization process of the 2015 peace agreement, demanding a transitional unity government for 27 months.
The position paper dated 26 January and seen by Radio Tamazuj calls for reconstitution of the current transitional unity government, national parliament, cabinet and the Judiciary.
The opposition leader said parties should revert to 10 states as per the 2015 peace accord. According to Machar's position paper, the president will be selected by SPLM party led by Kiir; the first vice president will be selected by his SPLM-IO group while the vice president will be selected by other opposition parties.
He said power ratio in the government should be 42%, 42% and 16% for the government, SPLM-IO and opposition parties respectively.
"The selection of speaker of the traditional legislative assembly, who hails from Equatoria, shall be conducted through a democratic process once the expansion of the membership of assembly is complete," partly reads Machar's position paper.
"The Transitional Council of States shall be dissolved and reconstituted with total membership of 50, five from each state of which at least two are female," adds the position paper.
Machar said the state governments should review their constitutions to reflect the devolution of exclusive powers and authorities.
According to the document, the United Nations Mission in South Sudan and the Regional Protection Force will take over the security of the country for a period of 18 months of the transitional period.
South Sudan's former First Vice President turned rebel leader is being held in South Africa to prevent him from going back to his country.
The decision was reportedly reached by IGAD countries in order to keep him away in the hope of preventing fighting in the world's youngest nation.