SOUTH AFRICA -
18 Jun 2018
Machar to arrive in Ethiopia Tuesday: official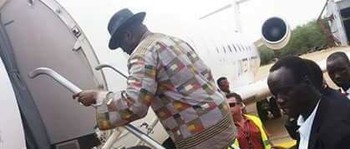 South Sudanese opposition leader, Riek Machar, will arrive in the Ethiopian capital, Addis Ababa on Tuesday, his official confirmed.
The IGAD Council of Ministers said recently that President Salva Kiir and his former deputy Riek Machar will meet face-to-face before the African Union Summit in Mauritania on 1-2 July.
Manawa Peter Gatkuoth, deputy chairperson for the SPLM-IO's information committee announced the arrival of Machar in a statement to Radio Tamazuj this morning.
"Dr. Machar will arrive in Addis Ababa tomorrow. The time is not yet confirmed but he will arrive in Addis on Tuesday," Manawa said.
He further said their leader will meet with President Salva Kiir in Addis Ababa on June 20.
But the South Sudanese government said recently it wants the face-to-face meeting between President Kiir and his former deputy Riek Machar to be outside the IGAD countries.