ADDIS ABABA -
24 Jun 2018
Machar to arrive back in Addis Ababa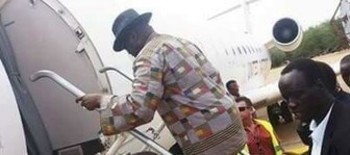 South Sudan's opposition leader Riek Machar would arrive back in Addis Ababa shortly after he travelled to South Africa on Saturday night, his official confirmed.
"Dr. Riek is on the way coming from South Africa to Ethiopia. When he arrives in Addis Ababa this afternoon, we will go together to Sudan today," Manawa Peter Gatkuoth Gual, deputy head of the SPLM-IO's information committee told Radio Tamazuj this afternoon.
The senior opposition official said their leader Riek Machar will hold another face-to-face meeting with President Salva Kiir in Khartoum on Monday.
"The two leaders need to take bold decisions to bring peace in South Sudan because the situation of our people is worsening," Manawa said.
The regional leaders decided in their recent communiqué that the opposition leader Riek Machar is free to leave South Africa to any country of his choice except the IGAD region and that he will be allowed to enter into and exit from Sudan and Kenya for the duration of the peace process.
They also decided to deliberate on Machar's final status at the upcoming ordinary summit of the IGAD Assembly.