Machar threatens to opt out of unity government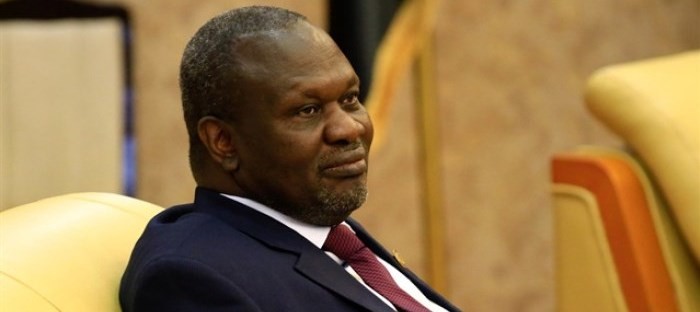 File photo: Opposition leader Riek Machar
South Sudan's opposition leader Riek Machar says he will not join a unity government until critical pending tasks in the peace deal are addressed.
The deadline for the formation of the unity government was set for November 12.
Dr Machar, who was meant to return to Juba to join a new coalition government as first vice-president, said today that he doesn't want the country to slide back into civil war.
"If the government will be there on the 12th, we the IO won't be there because we don't want to put the country into crisis. We would opt out and contain the troops," Machar told the visiting delegation of the UN Security Council.
"We have a volatile situation that we want to control. We want this country to be peaceful," he added.
Machar revealed that steps toward key interim benchmarks – creating a national army– are lagging far behind schedule. "Critical issues must be resolved. The security arrangements must be in place at least," he said.
"This morning, Kiir and I met the security sector but what we found out was that what is on the ground cannot be completed within three months," he said.
Machar further said he believes that the incumbent government and the opposition needed more time before forming a transitional government, pointing out that the issue of states and boundaries also need to be resolved.
"Suppose we form the government on 12 November, do you know what is going to happen? The ceasefire which we have been enjoying for the whole year will be ruptured," he said.
For her part, US Ambassador to the United Nations Kelly Craft called on South Sudan leaders to commit to the ceasefire agreement and a nonviolent future.
The US diplomat appealed to all parties to implement the revitalised peace agreement. "Now is the time to make compromises to form a credible transitional government. We call for your commitment that South Sudan will not return to war," Craft said.
Meanwhile, South African Ambassador to the United Nations Jerry Mathews Matjila said the United Nations Security Council is fully committed to support the peace process in South Sudan.
"If you don't use this time to implement the peace agreement, it will take time to do so," he said.
The visiting delegation of the United Nations Security Council also held a separate meeting with President Salva Kiir.