Machar still in control of SPLM/A-IO, rubbishes Gen. Gatwech and group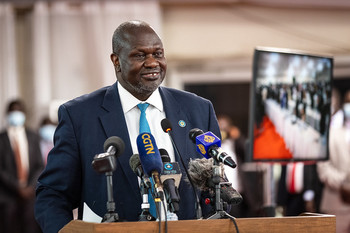 The SPLM/A-IO, after a hastily called crisis Political Bureau meeting on Wednesday, strongly condemned the recent Kit Gwang Declaration announcing the ouster of Dr. Riek Machar Teny as the leader and Commander-in-Chief of the SPLM/A-IO, replacing him with the former SPLA-IO Chief of General Staff, Gen. Simon Gatwech Dual.
Prominent military leaders of the SPLA-IO including Gen. Gatwech, former Sector 1 commander Gen. Johnson Olony Thubo, and former Sector 3 Commander Gen. Thomas Mabor Dhoal met in Magenis on Tuesday and agreed to depose Machar saying he no longer represented the interests of the movement.
However, a press statement by the SPLM/A-IO leadership signed by Dr. Machar who is also the First Vice President, outlined that the three generals do not constitute the movement's military council and they have no mandate to make any decisions on behalf of the party.
"The three generals who met in Magenis do not constitute the SPLA-IO leadership of the Military Council. The Military Council is composed of the Commander-in-Chief, Chief of General Staff and his deputies, commanders of the nine sectors, and commander of the General Headquarters," the statement reads in part. "At the time of the declaration, Gen. Simon Gatwech Dual had already been relieved from command and appointed as Presidential Advisor for Peace. However, the Military Council does not make the political decisions of the movement but the Political Bureau or the National Liberation Councils in the absence of the National Convention."
The SPLM/-IO further accused the generals of working against the implementation of the peace agreement by attacking various cantonment sites in different parts of the country.
"It is regrettable that the declaration was engineered and facilitated by peace spoilers who previously sponsored attacks on Turu cantonment site in Maiwut County, Liengkiji cantonment site in Maban County in Upper Nile State, Morta Training Centre in Kajo Keji in Central Equatoria, the attacks on SPLA-IO in Western Bagre k Ghazal and Western Equatoria states. The Political Bureau, therefore, condemns these grave violations in the strongest terms possible."
Machar said the declaration was ill-informed and is intended to derail the implementation of the security arrangements which are long overdue.
"The declaration is intended to derail the formation of the unified command, graduation, and the deployment of the unified forces, which remain an outstanding priority after the conclusion of the reconstitution of the national legislature," the statement said.
Despite all these, Machar assured the public that he was still in control and the situation is stable.
Further, the SPLM/A-IO Political Bureau condemned the arbitrary arrest of members of the Peoples' Coalition for Civil Action, saying they are exercising their rights within the constitution and demanded their immediate release.