Machar to sign final peace deal 'with reservations'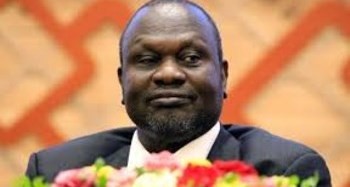 South Sudan opposition leader Riek Machar Kiir attends the signing in Khartoum, June 27, 2018. REUTERS/Mohamed Nureldin Abdallah/File Photo
South Sudanese rebel leader Riek Machar would reluctantly initial the latest draft of the final peace agreement with the Juba government, a spokesman of the opposition group announced.
Manawa Peter Gatkuoth, the deputy spokesman of the SPLM-IO group, told Radio Tamazuj that his group was concerned about some points in the atest draft of the final deal.
"We want to list our reservations before we sign the final peace document. We are going to sign the document with reservations around 6 pm, so we are now writing our reservations," he said.
The opposition official pointed out that the mediator had given assurances to refer their reservations to the Intergovernmental Authority on Development (IGAD) meetings for further negotiations.
"After those concerns are addressed by the IGAD summit, we will sign the final peace deal," he said.
Manawa noted that the peace deal in its current form is unsustainable. "The current peace we are signing today has so many things we have to reject. We are listing our reservations because we need a comprehensive agreement," he said.
He added that the opposition alliance will also initial the final peace agreement despite concerns. "They will also list their reservations separately and sign as a separate entity, "he said.
The final peace deal follows months of protracted negotiations hosted by Sudan.