Machar's wife arrives in Juba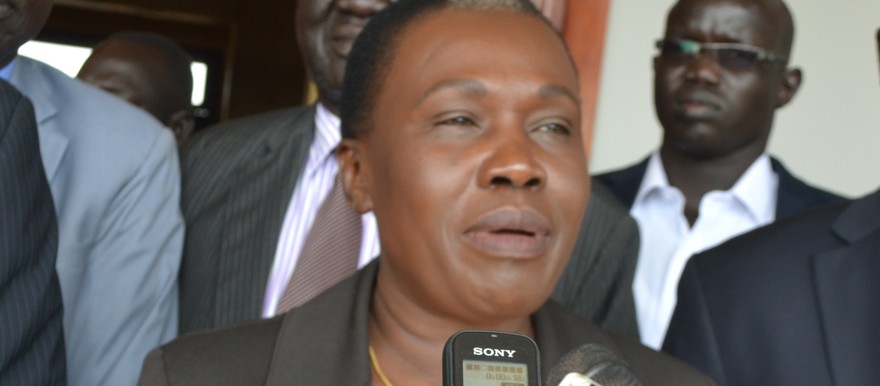 Photo: Angelina Teny, wife of the South Sudanese opposition leader Riek Machar speaks to reporters in Juba on Thursday, 20 December 2018. (Radio Tamazuj)
Angelina Teny, wife of the South Sudanese opposition leader, Riek Machar, has returned to Juba this afternoon for the second time to attend peace meetings.
Madam Angelina returned to Juba for the first time in more than two years in October and took part in a peace ceremony organized by President Salva Kiir.
Speaking to reporters at Juba Airport, Angelina said she came to Juba to participate in meetings of the Strategic Defence and Security Review Committee.
Angelina, who is also head of the SPLM-IO's committee for security and defense, reiterated the opposition group's commitment to the revitalized peace deal. "I am now in Juba because of peace. We are committed to implement the peace agreement because our people have embraced it," she said.
"Security committees have already started their meetings here. The members of the Strategic Defence and Security Review Committee were supposed to meet today but we have delayed," she said.
The senior opposition official further said the implementation of the pre-transitional period has run behind the schedule and urged the parties to work together in the full implementation of the agreement.
"We have to work hard to catch up because the implementation of the peace agreement has run behind schedule," she said.
Angelina urged the international community to support the implementation of the peace deal. She also called on opposition groups who are not signatories to the peace deal to accept peace." My appeal to them is to come and join us. We will work together to improve the agreement if it has some weaknesses," she said.
The top SPLM-IO official was received at Juba Airport by President Salva Kiir's adviser for security affairs, Tut Gatluak and minister of electricity, Dhieu Mathok Diing.
In September, President Salva Kiir and several opposition groups, including key opposition leader Riek Machar signed a final peace deal to end the conflict. Under the signed agreement, a new unity government will be formed in May 2019.