Machar's group says revitalization is only hope for peace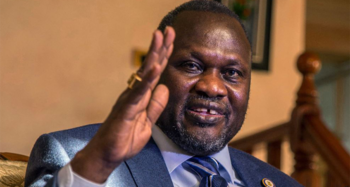 File photo: Riek Machar
A senior rebel official allied to the former First Vice-President Riek Machar said the revitalization forum initiated by the East African regional bloc (IGAD) is "the only option for putting an end to the conflict and violence" in South Sudan.
The revitalization forum, organized by the Intergovernmental Authority on Development (IGAD), is set to begin this month in Addis Ababa, Ethiopia.
Kuong Dak, former Member of South Sudan's Parliament, told Radio Tamazuj on Wednesday that the peace process should include all warring parties in the country." Now every day we hear that a new rebel group has been formed, so the revitalization process is the only hope for peace in our country. If we do not want peace now, the situation will change completely and people will not talk about peace revitalization again," he said.
The opposition official reiterated their commitment to the revitalization process. However, he said they have not yet received any invitation to attend the forum.
He further said they will participate in the revitalization forum once IGAD countries end Riek Machar's exile. "Machar must attend the forum because if he is excluded, we will not go to attend the forum. Machar is the commander-in-chief and he is the one who can make peace, so we cannot talk of peace without Machar who is responsible for declaration of ceasefire," he said.
IGAD Special Envoy to South Sudan Ismail Wais told the Voice of America on Tuesday that an invitation will be sent to Riek Machar and other key stakeholders in this month.
IGAD is an eight-member economic bloc that brings together Ethiopia, Djibouti, Somalia, Sudan, Eritrea, South Sudan, Kenya and Uganda.