Machar's group in Phow state approves ceasefire deal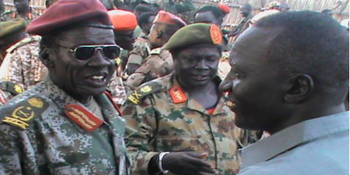 Senior opposition officials allied to South Sudan's rebel leader Riek Machar in Phow State said they have approved the cessation of hostilities, protection of civilians and humanitarian access deal brokered by the East African regional bloc IGAD.
The agreement was signed with the government recently after South Sudan's stakeholders agreed to revive the 2015 peace agreement.
"The Council of Ministers sat on 30 Dec 2017, discussed and unanimously endorsed the chairman's directive to cease hostilities," Khan Rom Bur, SPLM-IO secretary of information, said in a statement on Sunday.
He pointed out that the meeting was chaired by the opposition-appointed governor of Phow state Johnson Kuol Gai Nyoab. "In line with chairman's order, the SPLA-IO gallant forces leadership had ordered Division 7 in Phow State to remain in their trenches or their defensive positions but to act only in self-defense once attacked," he said.
The opposition official revealed that the meeting resolved to organize public rallies in which dissemination of peace massages will be carried out.