Machar's group demands compensation to release Kenyan pilots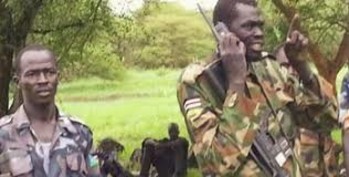 File photo: Governor Koang Rambang
South Sudanese rebels loyal to the country's former First Vice President Riek Machar said they are currently holding two Kenyan pilots and will not allow them to go until compensation is paid to the family of a civilian killed when their plane crashed recently.
"The plane crashed in Akobo East and caused huge losses,"Koang Rambang, the rebel-appointed governor of Bieh state, told Radio Tamazuj today.
"When the plane crashed, it killed a civilian and the family of the victim demands compensation. The two pilots are staying with the commissioner of Akobo East and they have access to medical services. They do not have any problem," he said.
The top rebel official claimed that the plane also killed 14 cows and destroyed houses after it crash-landed.
He further stated that the owners of the cows also want compensation.