SOUTH AFRICA -
15 Apr 2018
Machar pledges to facilitate search for peace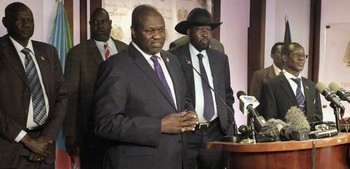 South Sudan's former first vice president turned rebel leader, Riek Machar has pledged to do all he can to facilitate the search for peace in the world's youngest nation.
This comes during his meeting with the head of the African Union Commission, Moussa Faki Mahamat in Pretoria, South Africa on April 12.
According to a press release by the AU Commission on Saturday and seen by Radio Tamazuj, Machar said he was looking forward to the resumption of the revitalization forum under the IGAD auspices.
It further said Mr. Moussa Faki had exchanged views with South Africa's President Cyril Ramaphosa on efforts to promote peace, security and stability in Africa, including how best the African Union, through its High-Level ad hoc Committee on South Sudan chaired by South Africa, could more effectively support the tireless efforts spearheaded by the Inter-Governmental Authority on Development (IGAD).
Riek Machar is being held in South Africa to prevent him from going back to South Sudan.
The decision was reportedly reached by IGAD countries in order to keep him away in the hope of preventing fighting in the world's youngest nation.