Machar leaves Juba without a deal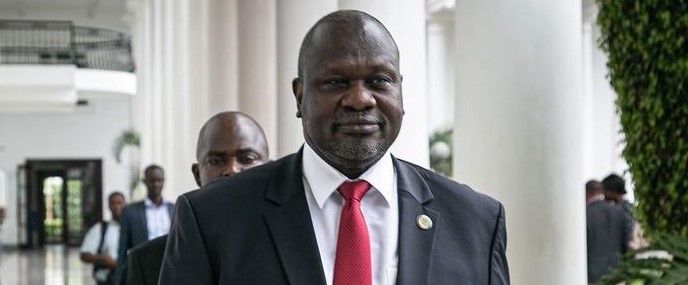 Riek Machar arrives for talks on South Sudan's proposed unity government in Uganda on November 7, 2019. Photographer: Michael O'Hagan/AFP via Getty Images
South Sudan opposition leader Riek Machar has left Juba for Sudan without the final deal he was hoping to strike with President Salva Kiir.
South Africa-mediated efforts to resolve the contentious issue of the number of states have all stalled.
South Africa's Deputy President David Mabuza took over mediation efforts last month, in the latest bid to push stalled talks between President Salva Kiir and opposition groups.
"Dr. Riek has returned to Khartoum this afternoon without an agreement on the outstanding issues, especially the issue of states," Manawa Peter Gatkuoth, the deputy spokesman for the SPLM-IO, told Radio Tamazuj.
He disclosed that the opposition leader, formerly South Sudan's first vice president, left the capital without holding another meeting with President Kiir.
"We were expecting another meeting between the two principles after the visit of the US Assistant Secretary, but no meeting took place in Juba," he added.
Machar was in Juba for two weeks where he met with President Salva Kiir and other stakeholders.
According to Manawa, Machar may return to Juba in the first week of February to resume talks on the contentious issue of the number of states and other issues ahead of a February 22 deadline for forming a unity government.
"Not much headway made on the issue of states, so Machar is expected to come back to Juba to resume meetings with President Kiir," he concluded.
Manawa reiterated their commitment to the 2018 peace deal.
The issue of states
South Sudan had 10 states when it obtained independence from Sudan in 2011. But in 2015 President Salva Kiir unilaterally increased the number to 28 and then later 32. The opposition argues that the constitution and the 2015 peace deal are explicit that South Sudan comprises only 10 states.
The opposition is insisting on a return to the original 10 states, or 23 states based on colonial boundaries.
The rival parties have twice failed to form the unity government, first in May 2019 and then in November the same year, when they agreed to give themselves100 days to resolve disputed issues and form a unity government by 22 February 2020.
Under the terms of the 2018 peace deal, the parties are to create a unified army to reduce the chances of fighting again and agree on the number of states and their boundaries.