SOUTH AFRICA -
25 Dec 2017
Machar hopes for tranquility in Christmas message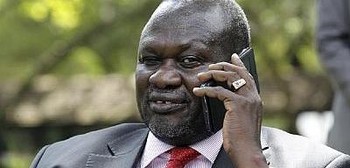 South Sudan's former First Vice President and rebel leader Riek Machar has expressed hope for peace and tranquility as the people of South Sudan celebrate Christmas this year.
In a Christmas message, Machar said the agreement on cessation of hostilities signed with the government will silence the guns and allow free humanitarian assistance.
"It is our determination that the unnecessary bloodletting, destruction of property and displacement of innocent civilians will come to an end through this agreement," he said.
The rebel leader hoped that the other parties will be committed to implement the cessation of hostilities agreement.
Machar also expressed hope that there will be progress early next year in the peace process led by the East African regional bloc IGAD. "I encourage you all to persevere and bear these conditions as peace may come back to our land," he said.