ADDIS ABABA -
21 Jun 2018
Machar's group rejects imposition of peace agreement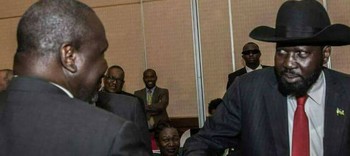 South Sudan's main opposition on Thursday rejected any imposition of a peace agreement and said ample time is needed to achieve lasting peace in the country.
In a statement extended to Radio Tamazuj today, the opposition group led by former vice president Riek Machar said the current peace model needs to be revisited.
"The current model, with its various workshops, though they are very informative, is unrealistic, as it is not for lack of technical experts that there is war in the country, not will the workshops stop the war,' partly reads the statement bearing the name of Mabior Garang, the head of the SPLM-IO committee for information.
"For any meaningful dialogue to take place, it should be within the context of a comprehensive political settlement," adds the statement.
The opposition further said Machar's meeting with Kiir Wednesday night was "cordial" and pointed out that that both leaders discussed the prospects for peace in broad terms.